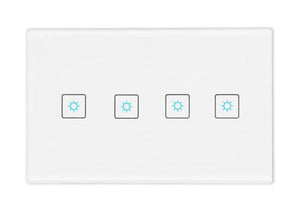 [Nue ZigBee 4 Gang Light Switch] -- a Hubitat hub, Philips Hue Bridge, Nue ZigBee Bridge or SmartThings Hub required for Nue ZigBee 4 Gang Switch. 

[Voice Control]--Support Google Home, Amazon Alexa through Nue ZigBee Bridge, SmartThings Hub, Hubitat Hub or Philips Hue Bridge

[AU / NZ Standard Switch]--- Smart Touch Switch: size-120*70*43mm, Compatible with Standard Mounting block, plate and clips,

[Timer Switch]---Create your daily schedule, automatically turn lights on/off based on your pre-set or set a scene to control device.

[Remote Access]---Control the Smart Switch wherever you have Internet using app on your smartphone.
Specification:
Voltage:AC 110-240V 50/60Hz 
Size: 120 x 70 x 43mm 
Color: White 
Type: 1 Way or 2 way operation by pairing with a Nue ZigBee scene switch
Gang options : 4 Gang 
Panel Material:Tempered Crystal Glass Panel 
Load Power:less than 300W each gang 
Operating Environment:-20~70 centigrade 
Neutral Wire Connection required 
Package includes: 
1 x Smart ZigBee 4 Gang Light Switch  
1 x User Manual 
Some Mounting Screws 
Notes: 
one gang light switch only controls one loop lights not more than 300 watts each gang  
compatible with AU standard mounting blocks, plates and clips