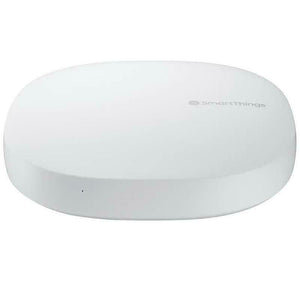 SmartThings part number: GP-U999SJVLGAA backed by SmartThings 1 Year Warranty.
Genuine Australian stock shipped from Melbourne for you to receive quickly.
Extend the range of a SmartThings Wifi hub (sold separately). Connect wirelessly with a wide range of compatible smart devices and make them work together and further.
All your devices under one hub
Bring hundreds of compatible devices like lights and sensors together wirelessly under a single hub that lets you monitor and make them work together in harmony. Personal scene settings like Movie Night let your customised modes keep going even if the internet disconnects.
Customise your mode of your routine
Use your personal settings to set your devices to work on their own. Time-based modes you create yourself such as Evening Mode let you shape the atmosphere you want without needing to move by changing the lighting, turning on the music and other devices for the ideal home environment every time.
Fits into your home décor
A minimal and unobtrusive design lets you fit the SmartThings Hub into your home environment. The small size and sleek appearance blends in harmoniously with your home so you can set it up in your ideal location to complement your home design.
Product Features
Connectivity: Wi-Fi 802.11a/b/g/n/ac, Zigbee, Z-Wave
Product Specifications
Dimension: 127 x 126 x 29 mm
Weight: 157 g
Operating Temperature Range: 0-40 °C
Product Includes
SmartThings v3 hub
LAN cable
Power adapter
Quick start guide